Lauren Miller Rogen may be best known for her work as a writer and an actor, but she is also a powerhouse advocate, founding the organization Hilarity for Charity. Americans for Cures recently sat down to talk with Lauren about her journey as an advocate for Alzheimer's research and why an advocate's voice can make all the difference when it comes to the future of research.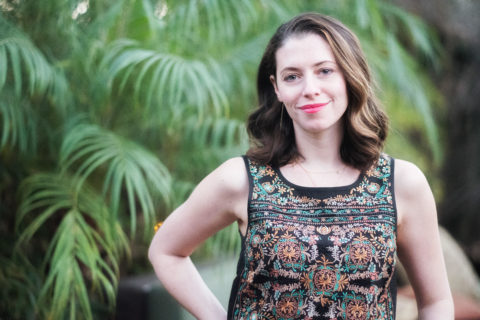 Why did you become a patient advocate?
My grandfather unfortunately had Alzheimer's, and he passed away when I was 12. A few years later my grandmother developed dementia and passed away when I was 18. Then, when I was only 25, my mother was diagnosed with Early-onset Alzheimer's when she was just 55.
Alzheimer's had rocked my entire life, and when my mom was diagnosed, especially at such a young age, it was devastating. I spent a long time keeping it to myself and didn't talk about it. It wasn't healthy and it didn't leave me feeling good.
As I started to feel more comfortable sharing my story, I started to get more active. I started to do to some walks and eventually was able to do some interviews.
Eventually a friend suggested to me that we produce a variety show to raise money and awareness for Alzheimer's, and that's how we started raising money to help other people who were going through it. It was something that we wanted to do together: my husband, our whole family, and our wonderful friends.
That was 6 ½ years ago and that very first event changed everything. It made me realize that I was so far from being alone. As I started to talk about it more and share my story, it was inspiring to see other people share their own stories.
There are so many other young people who are going through this and we wanted to help them have a voice, and that's where our organization, Hilarity for Charity, grew from. It is amazing how you just became an advocate without even planning it. It was through this work that I met Maria Shriver, who ultimately nominated me for a position as the Alzheimer's Patient Advocate on the California Institute of Regenerative Medicine (CIRM).
Can you tell us a little bit more about your organization Hilarity for Charity?
My husband and I are both writers and most of our friends work in comedy, so it was only natural for us to take a humorous approach to our advocacy. That's who we are, and it would feel unnatural to do it any other way.
The beginning of Hilarity for Charity was actually very organic. As I started to share my story, we began getting emails from people whose families also were affected by Alzheimer's and Dementia. Pretty quickly we realized just how many other people wanted to help do something about it. A lot of those people were young, so we developed HFCU, a program that would empower college students to throw their own fundraising events.
Once we began raising money, our next question was what kind of help do people need? I had a front row seat watching my dad care for my mom and I saw the amount of care that someone with Alzheimer's or Dementia needs. We felt very strongly about helping other people who were faced with the choice of putting their loved one in a facility or taking care of them at home. There are many wonderful facilities out there, but how can we help those who want their loved ones to stay at home? Right now, at home care is not an affordable for many. For those who do not want to put their loved ones in a facility, there are limited options as there  is no universal in home care at this point.
About 3 years ago, we partnered with Home Instead Senior Care to create our Alzheimer's and Dementia Care Relief Grant Program, which provides in home care for people who want to keep their loved ones at home.
We have a committee of people who read and evaluate applications every single month, and we've given away over 220,000 hours of care in the last 3 years. It has made such an impact in our lives being able to help people in this way and the stories we hear, as well as the notes of appreciation we receive, are incredibly moving. I know it is a cliche to say, but it is an honor to do this work to help people change their lives in that way. To see the impact you can have by helping provide just a few hours of care, or even more than that in some cases, has been amazing.
We have also just hired a new executive director and we're beginning to support more research. We've partnered with the Alzheimer's and Dementia Prevention Clinic at Weill Cornell in New York and Dr. Richard Isaacson, who does fascinating work in the areas of brain health and prevention, which of course is such an unique field in Alzheimer's research. Through our partnership, we're creating educational courses which will launch online in a few months designed especially for young people. The courses will focus on brain health, and we'll have separate courses for high school, college, and medical students about brain health and Alzheimer's disease.
We're growing, and our goal is to help people today with in home care and support, while investing in the important research that will support the advocacy of tomorrow.
Tell us a little bit more about how you go involved with CIRM?
I had met Maria (Shriver) a few times through our advocacy work, and she had done an interview with us as part of her work with NBC. I really admired all of her work, and we just really clicked right away.
About 5 years ago I came across the work of the Dr. Frank LaFerla at UCI, who had received a grant to do work in Alzheimer's prevention from CIRM. At the time, he had done some fascinating work with mice that was showing positive results. Unfortunately, his trial was ultimately unsuccessful, but I am a strong believer in the philosophy that all studies help us move forward in some way or another.
After finding out about Dr LaFerla's research I got a call from Maria, who mentioned that Leeza Gibbons, the long time Alzheimer's patient advocate on the CIRM board, was leaving. I was familiar with CIRM, having lived in California through the 2004 election and had thought it was such a cool thing that California was doing. Maria said, "Leeza is stepping down, would you be interested?" I said, "Yes of course I am interested." I met with CIRM's chairman, JT (Jonathan Thomas), and was blown away by the science they are leading. After our meeting, I was so fascinated with all the work of CIRM, and I wanted to be involved.
The learning curve is extreme throughout my work with CIRM. Of course, there are still some aspects of the science that are difficult to wrap my head around, but I understand the chorus of their fascinating research. CIRM is approaching so many diseases in a unique and specific way, ways that I really believe in. It has been an amazing, overwhelming, and fascinating process. It is so much fun going to the meetings just because it is such a different world from my everyday. Some of the top scientists think that they are really funny, even if they aren't and I am really fascinated by the whole world of it all. It is an amazing and incredible thing to be a part of.
Why do you think it is so important to have a patient voice at the table when it comes to funding decision?
About a year ago, the board voted for a trial on Parkinson's Disease. It was scored well by the Grants Working Group scientists, but not overwhelmingly enough that it was "guaranteed" to be awarded funding. David Higgins, the Parkinson's Disease patient advocate on the CIRM Board, gave an amazingly impassioned speech about the need for more Parkinson's research. He talked about how treatments being developed to find cures for Parkinson's are still so far away from being publically available and that doing unique research like this is so truly important. Thanks to his inspiring words, the CIRM Board gave this project a unanimous "yes!". CIRM's work is about more than just science and this is why the patient's voice is so critical.
It so very important because a scientist's work is in the lab, but a patient advocate is out living with these diseases everyday. What David did is provide an insight into what people are facing when it comes to Parkinson's Disease, whether it is caregivers or patients, and how desperate they were for exciting science. He described what this would mean to millions of families if it worked; it was amazing. Through our discussion, it was so clear to all of us why patient advocates are so important in these meetings because a scientist would never have been able to deliver the same message in such a concise, emotional, and passionate way.
Why should people care about medical research?
There is so much amazing research going on, research that could ultimately cure them or one of their loved ones. I think breast cancer is a great example of how far we have come. Breast cancer is now a disease that in many cases can be treated. When someone is diagnosed with breast cancer, it isn't necessarily a death sentence anymore. There is some hope there where there did not used to be. The reason why there are treatments at this point is because breast cancer became an issue that everyone talked about. If the entire country, if not world, hadn't made breast cancer a priority by going to marches, by telling stories, by raising money, then research would have never been done and we wouldn't be at the place we are now.
There are so many diseases out there that don't get the attention that they really need and deserve and it is up to us to use our voices because if we don't the money will never follow through to help us find cures. Government money often only comes when the public makes a loud enough cry for it and if we're not fighting, we won't get the treatments and cures we really need. If we do continue fighting for Alzheimer's and for other diseases, we will. As devastating as breast cancer is for so many, their patients and patient advocates have provided a great example of how ardent advocacy has led to hope.
When a disease becomes part of the everyday conversation, eventually we will eventually find a treatment or a cure. Even with the example of HIV/AIDS, there are treatments available these days that certainly were not available decades ago. The emotion, the power, the energy behind fighting for HIV/AIDS was there when communities needed it most, and that's why we are where we are with HIV/AIDS today.
Thank you for your inspiring work, Lauren!
Learn more about Hilarity for Charity, watch their Alzheimer's PSA here, or make a donation to the organization.