The story of how Frances Saldaña became a fierce advocate for Huntington's Disease (HD) research is not one for the faint of heart.
In 1989 Frances lost the father of her children, Hector Portillo, to Huntington's Disease.  Then, in one tragic misfortune after another, that same cruel disease took each of her three children, Marie, Margie and Michael. This degenerative brain disorder has a 50/50 chance of being passed from an affected parent to their children through genetic.  It takes away the ability to walk, talk, reason, and eventually robs their lives. Marie lost the fight to HD in 2009; Margie in 2014. Michael was the strongest but, he too, lost the fight to HD in the fall of 2017.
In the face of unimaginable tragedy, Frances became a powerful force for good—an advocate for both Huntington's Disease patients and the researchers trying to cure this terrible disease. We spoke to her about her experiences, including leading HD-CARE, a support organization under the UCI MIND (Memory Impaired Neurological Disorders).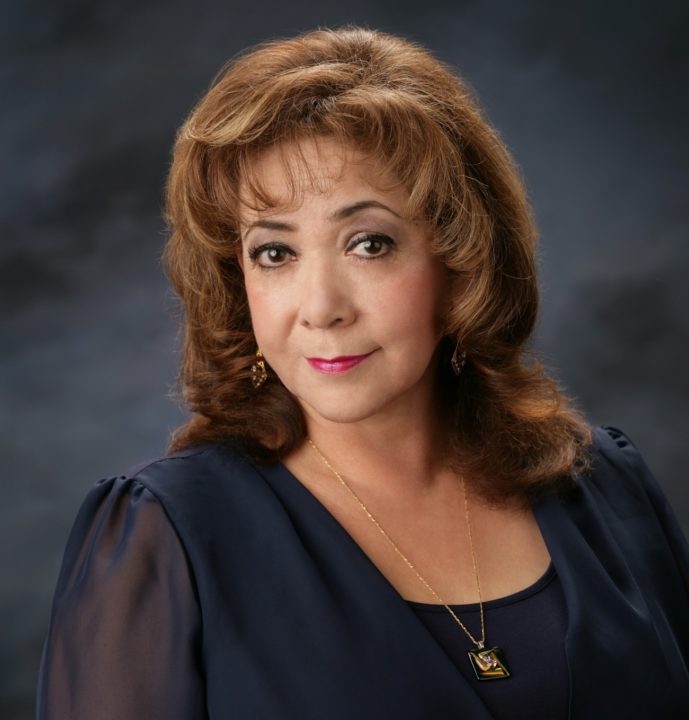 Why did you launch HD-CARE and how did you hope to make a difference with the organization? 
We launched HD-CARE specifically to support the Huntington's Disease lab and the Huntington's Disease clinic at UC Irvine.  HD-CARE stands for Huntington's Disease: Community Advocacy Research and Education.
When did you become an HD patient advocate?
My journey as a patient advocate started in 1980, when the father of my children began demonstrating symptoms of Huntington's Disease.  He was diagnosed soon after. My advocacy work evolved as my late husband became progressively debilitated until his battle with HD came to an end.  As each one of my children also started becoming debilitated and then totally disabled from Huntington's Disease, my urgency and fight for my family became even stronger, and my role as a patient advocate took on a life of its own. What started off as shock, anguish and desperation in time took on a different face. As I became more involved, I started learning new ways to help my family through nutritional supplements, physical exercise, meaningful social interaction and personal care.
Prior to the start-up of HD-CARE, I was on the board of HDSA-LA (Huntington's Disease Society of America) since 1994, and in 2000 I initiated the start-up of HDSA-OC with the hope of increasing awareness and support for our cause in our community. We focused on fundraising, galas, Team Hope Walks and an annual Strike-Out HD Bowl-A-Thon. These events continue to this day and provide our families days of fun and friendship, while helping to fundraise and support a common cause.
When I first began advocating for Huntington's, I felt a great deal of fear and an urgency to do all I could in my  power to save my children because I knew they would die if they carried the mutant protein for Huntington's Disease.  I really did not want to worry my children but, after having lost their father, they were scared, too. Neither Margie nor Michael had been diagnosed, but I knew my youngest daughter, Marie, was already demonstrating soft symptoms for Huntington's at the tender age of 12. Marie agreed to be tested for HD, then diagnosed, when she turned 18. She took the positive diagnosis like a true champ! Our family continued to fight and hold out hope that there would be a cure.  
As time progressed all three of my children were symptomatic and in need of specialized care.  It became more difficult for me to drive them to the UCLA HD Center of Excellence, and it became apparent that we needed a clinic in Orange County to support HD families locally. In 2005, along with HD patient advocates, Dr. Hermanowicz, a neurologist who specializes in HD, Dr. Leslie Thompson, an HD researcher, and I met with Dr. Lott, the Dean at the UCI College of Medicine, and he agreed that we should have a monthly clinic at the UCI Gottschalk Medical Plaza. Once the clinic launched, our organization became closer to the wonderful doctors at UCI—they became an extended part of our family.
What work does HD-CARE bring to your community?

We hold an annual symposium to bring together HD researchers, clinicians, social service organizations and the stakeholders in Orange County and the surrounding areas.  We also support clinical trials currently taking place at the UCI HD Clinic. Our efforts have been successful in building a closer relationship between the researchers and the stakeholders, and they have fostered a greater understanding within the community of science taking place at UC Irvine. Likewise, the medical team at UCI HD clinic has developed a true understanding of patient needs and of Huntington's Disease itself.
HD-CARE funding is meant to be undesignated, meaning that scientists can use the money for all parts of their research, i.e., for equipment, to attend conferences, or to cover operational costs. In 2013 the UCI MIND Museum installed a permanent exhibit of the history of Huntington's Disease which illustrates collaboration between HD families and HD researchers, and the hope for a treatment.
Can you tell us about HD-CARE's annual symposium?
Our yearly educational symposium is free and open to all. Many HD families cannot afford to travel to national conferences around the country, so we are pleased that this event is accessible to everyone in Southern California. This event is highly interactive and attendees all learn from each other.  We want to help the stakeholders (HD families) understand the important science taking place in the HD lab, and vice versa, we help the scientists get an inside look at what life is like for an HD patient. HD families also learn about current clinical trials and local resources available to them. This symposium is an educational day that offers camaraderie and hope for a treatment that will one day end Huntington's Disease.
Can you describe your day-to-day experiences as a patient advocate?
Because fate brought Huntington's Disease into my life, becoming a patient advocate eventually became my purpose in life. Finding creative ways to celebrate life is also something I work hard for.  The initial jolt experienced in the first years of my HD journey could have taken me down, but my HD patient advocacy work and fundraising efforts, as well as the need to be the caregiver and breadwinner for my family, actually gave my life some balance. I keep my eye on the prize – staying focused on a treatment for HD, and at the same time I focus on creating happy memories for the HD community.  
My day always starts by looking at my calendar, making calls, reviewing upcoming advocacy commitments, and fundraisers and other events we are planning. There has been no time to crumble, although the sadness and sorrow from having lost my entire family will never go away. Being a voice for HD families and having been given the platform to advocate for the HD community has been a blessing for me.
What's challenging about your work as a patient advocate? What's rewarding? How has your approach changed over the years? 
About 25% of my time as a patient advocate requires retelling my story, and it is painful to relive what HD has done to our family. This is the most challenging part.
The most rewarding part is that if there is even one person that I can educate about Huntington's Disease, that is one more person that now knows what HD is – a disease that has been called "the cruelest disease known to mankind." My hope is that an HD patient will never be mistaken for being intoxicated or on drugs but rather be treated with the care, respect and dignity that they deserve. Lack of public knowledge about the disease has caused HD families to endure enormous shame and sadness because their loved ones have been so mistreated and misunderstood. HD has been a well-kept family secret for centuries. I want to end the stigma associated with the disease.
Can you point to a specific moment where you feel you've had a positive impact on someone? 
When HD family members come to me, with tears in their eyes, completely distraught after having learned that they or a loved one have just been diagnosed with HD, I will always share the many advances in HD research currently taking place. Instead of thinking of HD as a death sentence, they are often inspired by the hope that current HD research brings. Thirty years ago we didn't have the hope we have now.  I, too, am hopeful that we'll have a treatment in the next several years.
Why is the patient's voice important in medical research advocacy? 
Whether at the local, state, or federal level, or in the healthcare arena, the patient's voice is critical because support is needed to fund research and patient care. Time is of the essence because eventually, the HD patient will lose the ability to reason, to talk, to walk and to swallow.  The clock keeps ticking and without a treatment, the patient will die. There is no cure or specialized care without funding. Until we have a treatment, there is also a great need to support funding to provide excellence in care for the HD patient. This can only happen through the patient advocate's voice.
What's your argument to lawmakers for investing in medical research into Huntington's? 
Some lawmakers are very compassionate when I share with them what HD families endure from a generational disease that will never go away until we have a treatment. I have seen tears in their eyes when I describe what my late husband and all three of my children endured. I describe the symptoms of juvenile Huntington's Disease, which are even worse, with severe and painful spasticity and seizures.
For other lawmakers, the cost involved to support HD research is the only thing that matters. I often do the math for them so that they can see in black and white what it costs the government to care for an HD patient throughout their illness, and how that cost could be eliminated if they supported groundbreaking research from start to finish, rather than letting valuable data go to the "valley of death" due to lack of funding. Not only would their support bring down the cost of healthcare, but finally having a treatment for Huntington's Disease would end all the suffering and pain endured by this fatal genetic disease. Funding HD research would be a win-win for lawmakers and for families.
What do you think the general public needs to understand about Huntington's? 
People need to understand that Huntington's Disease is an inherited disease. In the past, doctors often misdiagnosed it for either Parkinson's Disease or ALS.  If the family didn't have a history of HD, a couple might start a family and have children who would then be "at risk" to inherit this devastating and fatal disease.
HD is not just a movement disorder, as it was previously thought. It is a disease of the body and mind. The disease is killing the brain cells, and the damage starts taking place decades before the symptoms appear. For children, the life span is much shorter—10 to 15 years, sometimes less, after the onset of symptoms. Going through pre-genetic diagnosis (PGD) and in-vitro fertilization (IVF) is one way to ensure that the offspring will not have HD, but it is a costly procedure, and very few insurance companies will cover the procedure.
When an HD patient enters the later stages of their disease, unable to walk or talk, they are still aware of their surroundings, what is being said, and how they are being treated. It is especially important at this very sacred time of his/her life to treat the patient with the best care possible with dignity, respect and love.
What about stem cell research gets you excited? 
Stem cell research continues to open new frontiers in medicine. There is so much being discovered each and every day. Thirty years ago, we wouldn't have imagined the breakthroughs that have taken place in the areas of cancer, spinal cord injury, sickle cell anemia, retinitis pigmentosa, or SCID. Some of these patients have received treatment for what would have seemed unimaginable 30 years ago! It has taken a lot of hard work and collaboration from brilliant scientists, the leadership from various organizations, and the stakeholders who continue to make their voices heard. The strides towards stem cell treatments in these areas of research are what I hope to one day see come to fruition for Huntington's Disease.
What do you think people can do right now to help people suffering from Huntington's?
Friends, families and the community can improve the quality of life for HD patients by not forgetting them once they are confined to the hospital bed.  Providing palliative care, music therapy, aromatherapy and massage therapy improves their quality of life. Visiting the patient and providing meaningful social interaction and spirituality is very comforting for them as well.  People can also help by securing badly needed social services for the families. Showing kindness and generosity is therapeutic for the giver, as well. It warms the heart and gives you the peace of mind in knowing you did all you could to make the patient feel comfortable and loved.  Comfort and love is all that the patient can look forward to at this last part of their journey with Huntington's Disease.